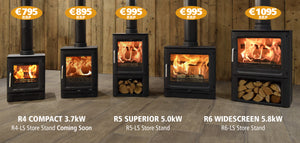 FUTURE PROOF NOW Ecodesign is already here – 2 years early!
Ecodesign is here 2 years early. Future-proof now!

Ecodesign stoves are now everywhere you look – even though they're not really a legal requirement until January 1, 2022. Remember, you won't be able to sell the old ones after that, unless you still have some in stock, but by then it will be like trying to sell black and white TVs when the world's been turned on to colour. Customers are already being switched on to the environmental benefits of Ecodesign wood burners by manufacturers under pressure from high profile air quality concerns. Although it's good that the industry is fighting back, it does however mean that as far as old stoves go, everybody's sticking the boot in.

SO IT'S OUT WITH THE OLD...

...and in with the new. Latest Stove Industry Alliance (SIA) figures (July to Sept) indicate that approximately 49% of all UK freestanding dry stove sales are now Ecodesign Ready – a rise every quarter since the scheme launched some two years ago. Clean-burning carbon-neutral Ecodesign stoves are now promoted as part of the solution to environmental issues. This is an opportunity. Don't wait, be Ready now!

... AND IN WITH THE NEW!

Renowned build quality, reliable performance and remarkable value – that's the aim of the Hi-Fame's all-NEW R-Series collection of Ecodesign wood burning stoves with log store options, successfully launched at Hearth & Home in June. The Defra Approved R-Series also offers you single precision control and direct external air, 3-year extended warranty and best-selling capability, just like our Graphite and Alpha!
Don't wait, be Ready now!
---
8 comments